The Ultimate List of Musical Presents & Experiences for Children and Families in Toronto
Holiday season is almost here! It's the time of year when families get together and share their love of the holidays. It's also a time for gift giving and sharing. Here's a great list of musical gifts and experiences to give to your child. 
Instruments
Looking to sing and make music together at home? Pick up some child friendly instruments, create a family band and have a great time singing together/1  Some great choices are maracitas, castanets, shakers. You can find some at the Rainbow Songs shop.
Music classes Near Me
Things are great gifts and so are experiences! Looking for a great way to get out of the house and meet new moms near you? Wanting to enrich your child and have a great time yourself?   Give the gift of music classes! When searching for music classes near me you will certainly find a our classes! Rainbow Songs baby and toddler music classes are a super fun, engaging and rockin' good time. With 20 Toronto locations, there's sure to be classes near you.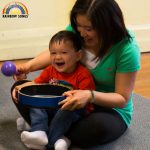 CD's or a Spotify account
Still have a CD player in your car? Or do you download all your music? There is tons of great music for children that you can share with your children. Rainbow Songs has 7 recorded CDs and can also be found on many download platforms such as spotify. 
Gift certificate
Not sure what to get your friend for the holidays? Give them a gift certificate where they can choose their item. A Rainbow Songs gift certificate means that they can choose from musical instruments, music classes, a musical birthday party and more!
Concerts Near Me
Toronto has multiple venues where you can take your whole family to experience fun live music. Try the Toronto Symphony for their family friendly concerts. Check out a musical at a Mirvish Theatre or The Annex Theatre. There are loads of musical experiences that you can experience together.
Give Back to an organization that is providing Music Classes to Needy Families
Love your baby and toddler music classes? Looking for a way to give back to the community? Now entering its 12th year, Rainbow Songs Foundation provides interactive music programs to families with young children using shelter and refugee services in the GTA. By giving parents the skills and tools to make music with their children, our programs seek to make a real difference in families' lives today and in the future.
Here's different ways you can contribute to helping to create a meaningful musical experience for children in need with Rainbow Songs Foundation:
Individual Gifts – Make a secure online gift.
Monthly Donor – Show your support all year round by becoming a monthly donor.
http://www.rainbowsongsfoundation.org/donate-now
Whatever your choice, a musical gift will enrich your child's life as well as that of the whole family. Singing together, listening to music, sharing the experience of music together will help make your holiday season meaningful and filled with joy.