Rainbow Songs Sister Charity Rainbow Songs Foundation
As a member of our Rainbow Songs community, you know how valuable musical experiences are for young families.  Rainbow Songs Foundation brings the same learning, joy and laughter that you've shared with your children to family shelters across the GTA.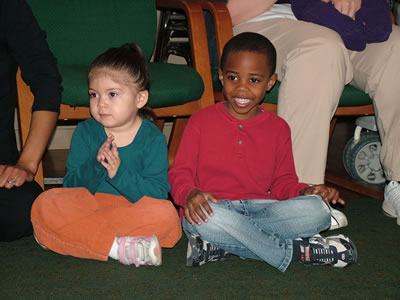 About Rainbow Songs Foundation – Toronto Music Classes for Those in Need
Rainbow Songs Foundation's (RSF) mission is to be an organization that can be engaged in eqality and social change by providing access to the same baby and toddler music classes that you all know and love. It was established in 2007 by the founders of Rainbow Songs as an separate charity organization. It's purpose is to provide baby and toddler music classes for free to Toronto families with young children who are living in the shelter system.
RSF classes are taught by your favourite Rainbow Songs teachers! Our early childhood music instructors will help to support cognitive development in a fun and nurturing setting. Classes contain fun song, musical activities and fun to encourage the participation of children and adults alike.
These meaningful music classes also support the development of of both the emotional and  social growth. We also strive to have music classes that are in a risk-free environment where parents, who may be having a challenging time, can bond with their children in a fun and musical setting
Our programs run on a weekly basis in alignment with the school calendar, resulting in reliable, consistent and effective programming for at-risk children who need it most.
To learn more, please visit our site: Rainbow Songs Foundation.
Music Makes a Difference.  You make it possible. Rainbow Songs Foundation's programs are funded solely through the generous support of community members like you.  The Rainbow Songs Foundation is a registered charity (Charitable Registration #83747 9153 RR0001).
To donate safely online:

Secure donations online through CanadaHelps.org