Animal Week at Rainbow Songs is Coming! Lions and Tigers and Bears…oh my! 
We're halfway through the Fall term at Rainbow Songs – which means it's nearly time for ANIMAL WEEK! Come sing songs about your favourite furry creatures with us – from Nov 18 to 23. And it is also a time where you can DRESS UP! Adults and children alike are encouraged to wear animal costumes and to bring their beloved stuffies to class. (If you don't have an animal costume we'll have some to share including great animal hats, masks and more.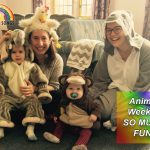 In class, we'll be singing along to music class songs like Elephants Have Wrinkles. This fantastic tune incorporates actions to help you have fun together with your child, while simultaneously building language and social skills. 
Children of every age can join in! Here are some ways to do Elephants Have Wrinkles actions with your child, no matter what age or stage they are at:
Baby:
Help your baby lie on their back (if they're comfortable doing so)
As you sing about different body parts, point them out on your baby's body
This helps with face-to-face interactions and identifying body parts!
Toddler:
When you sing about different body parts, point them out on your own body
Encourage your child to do the same themselves
If they still need help doing some movements, you can always help them along
2-4 Years:
Trying doing a dance together!
Point out the body parts as you go along and encourage your child to be creative with their dance moves
Watch our video and learn the lyrics to Elephants Have Wrinkles for Animal Week (November 19-24)! https://www.youtube.com/watch?v=KJonGSbUWXE
Words and Music by April Kassirer
(published by Rock'n'Rainbow Music Publishing)