Enroll the Whole Family in the Same Toronto Music Class & Get a Sibling Discount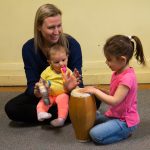 We Love When Families Sing Together! A 25% sibling discount is a great way to do family activities together!
Making music together as a family is so much fun. Why not sing together in our music classes for preschoolers?! Rainbow Songs sibling discount is a wonderful way to enjoy kids activities together. Our music programs offer a wide range of music classes for babies, toddlers, and young children. Rainbow Songs professional teachers have a blast singing with everybody and are expert at including older and younger siblings into the classes.  We encourage you to bring along older or (younger!) siblings to class to share in the joy of music together. We love it when the whole family comes along to jam with us!
Event if the class is listed for a specific age group, our professional and fabulous teachers always gear the class to the development stages of the children in each specific class. We prefer that families book classes together so that they can share the joy of singing together.
Enroll here today. We can't wait to sing with you and your family!
First thing to do is make sure all your children are listed in your Rainbow Songs account. The 25% Sibling Discount will be automatically applied to your enrollment.
Have an Extra Child for One Week? Sibling Discounts Apply to Drop-Ins Too!
Both kids at home during one of your music class times? All good! The 25% Sibling Discount also applies one-time drop-in classes. Bring the whole family along on the days when you've got the whole family with you. Please call or email the office ahead of time to book this special family activity.
Babies 5 months and Younger are FREE when an Older Sibling is Enrolled
Having trouble finding an activity that includes all your preschool children? We love it when you bring your infant to our music classes. When you have your older child enrolled in a session we welcome you to bring your infant to class as well. Just let the office know you will be bringing your new addition and we'll make sure the teacher has all the information. The more that families make music together the better! Your infant will enjoy all the songs and your older child will get to enjoy our joyful and interactive classes with both you and his/her sibling.
Benefits of families singing together at Rainbow Songs classes include:
Babies and

young children often pick up skills quicker by watching older children at play

Older children are encouraged to be helpers and leaders in the music class

Making music as a family supports social, emotional, cognitive, and physical development.

Nurture your children's creativity, self-expression, and confidence by sharing fun songs and music making together!
Rainbow Songs Music Classes for Preschoolers has 20 Toronto locations
We're the largest Toronto preschool music school. This means that you can book your make-up classes at any of our locations where our music classes take place! Some neighbourhoods have multiple locations so be sure to check out our website to find the best location for you and your children!
Our Toronto Music School Neighbourhoods include: Kingsway, Royal York, Junction, Swansea, Bloor West, High Park, Roncesvalles, Trinity Bellwoods, Annex, Danforth Village, Leslieville, Coxwell, Beaches, Mount Pleasant, Leaside, Yonge and Eglinton