Announcing an awesome deal for Rainbow Songs families!
Do you know Scooter Girl Toys? It's THE well-known and awesome Roncesvalles toy store, just down the road from Rainbow Songs on Roncy! We love their great collection of toys, wonderful selection of books and all the fun extras they stock for babies and kids!
Enroll in the Winter Session music classes at Rainbow Songs and get a Scooter Girl Discount!
We're super excited to announce that participants enrolled in Rainbow Songs Winter 2019 Session classes (January 7-March 9, 2019) will get a special 15% discount at Scooter Girl Toys! And yes, that applies to enrollment at any Rainbow Songs location across the GTA. We're pretty confident that if you're attending a Rainbow Songs class, you've got little kiddies in your life who would appreciate all the fine, fun toys & books that line the shelves at Scooter Girl. To claim, login to your rainbowsongs.com account on your phone while in the store, and show the staff your dashboard (with Winter term enrollment info).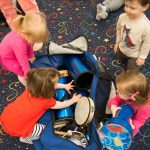 It'll be a cold and dreary January, but take some music classes and make some toy store visits during the winter months and it will definitely brighten your day (because, seriously fellow Canadians, we should really embrace this hygge business and plan good things for those dark winter months).
Winter Enrollment is available at Rainbow Songs
So what are you waiting for? Head on over to the Rainbow Songs site here, enroll in a winter session class (or more!) and enjoy the extra benefit of getting some great deals at Scooter Girl.