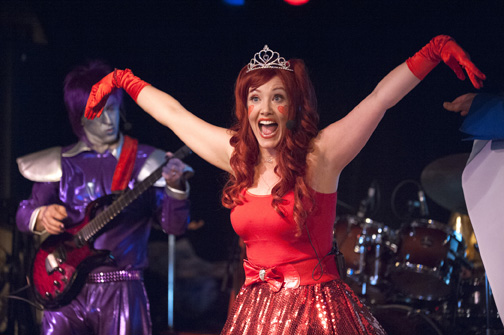 Rock'n'Rainbow –the Rainbow Songs house band — will be rock'n out at Lula Lounge (1585 Dundas St W.) in just under 3 weeks! RnR's Spring concert is Saturday, May 14th, with doors open at 11AM and the band going on shortly thereafter. Tickets are selling briskly, and we expect the concert to sell out. Do you have yours yet? Buy tickets now on the Rainbow Songs shop.
Rock'n'Rainbow includes beloved Rainbow Songs' teachers Jessica Blake as Lady Red, Josh Engel as Blue Elvis, and Rainbow Songs founder & Director Mike as Purple Stardust, performing together with legendary local musicians John Kanakis (as Dr Orange) and Tony Nesbitt-Larking (as Mellow Yellow). They play rockin' versions of Rainbow Songs class favourites, as well as original numbers. RnR concerts are a family-friendly, rockin' good time!
If you'd like a preview of the Rock'n'Rainbow sound, here's a YouTube playlist of some of their greatest hits.