About Rainbow Songs Music Classes for Babies, Toddlers and 2 – 4 year olds
Did you know that all children are musical? Did you know that music helps babies and toddlers during early childhood? When you sing with your child it helps your baby and toddler to sharpen math and literacy skills and generally improves cognitive and social abilities too!
Ready for fun? Here's 10 reasons to sing with Rainbow Songs:
Sing old favourites and catchy Rainbow Songs originals

Play! Make music, make friends, have fun. Rock out!

Learn with fantastic teachers who have all graduated from the Rainbow Songs teacher training program

Explore new instruments from around the world

Learn sign language to aid in the learning of song lyrics and further enhance communication skills

Build social skills such as taking turns, sharing and singing together

Learn percussion, melody, rhythm, beat and other musical musical concepts

Share music and fun as a family

Build a foundation for math and language skills while singing and dancing

Enjoy special theme weeks that highlight fun songs such as Animal Week, Earth Week and Halloween
Rainbow Songs classes provide an opportunity for you and your child to grow together in so many ways. Fun music classes for everyone –  mommy and me, daddy and me, grandparent and me! Give you and your little one the greatest gift of all – the gift of quality time together in a nurturing, loving, and musical environment.
Learn more about the Rainbow Songs methodology and approach to learning music.
About the Participation of Caregivers
The participation of parents and caregivers in Rainbow Songs music programs is an extremely important part of the success of the classes. The more you take part in the music making, the more your child will get out of it. Children learn by imitation and when they see you singing and playing musical instruments they will try to do the same. The collective practice of making music together should not end in the classroom. Musical learning and enjoyment will increase as you sing and make music with your child in your own home. This is an opportunity for you and your child to grow together musically.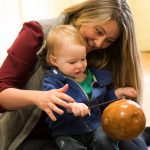 You will receive simple instruction in the correct techniques for playing instruments. Easy demonstrations are shown to children and adults together. You will learn to play bongos, tambourines, clave sticks, maracas, drums, and other instruments. Then you can pass this accomplishment on to your children by teaching them. You and your children can practice making music as a family for years to come. Songs are taught with hand gestures and movements to reinforce the learning process. The actions to songs help children to learn the words more quickly and to involve the whole body in the music. The effect of the participation of the caregivers doing "the motions" of the songs as well as the singing and playing them makes the experience more engaging for your children.
Join the jam! Mommy and me programs are fun!