After having fun in your music class check out these fun Toddler and Baby activities in the Beaches, Leslieville, Coxwell and Danforth Village
We love all the neighbourhoods where our music classes take place. Toronto is such a fun city with awesome activities for toddlers, babies, and moms, dads and caregivers. After a Rainbow Songs class, there are so many fun things to do in each of the Toronto neighbourhoods where we host classes. Take a look at the list below for some great ideas of places to go and things to do in the Rainbow Songs Toronto east end locations in the Beaches, Coxwell and Danforth, Danforth Village and Leslieville.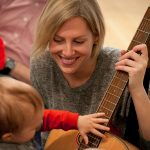 Best Toddlers and Baby activities in the Beaches
There are lots of great indoor and outdoor activities to do in the Beaches with your kids. After having fun singing with your infant or toddler in your Rainbow Songs class at Cresswell Dance Studio (2181 Queen St. East Toronto Ontario M4E 1E5), you and your little one should try these other fun kid and family activities!
Visit the Beaches park where you can stroll along the boardwalk, and have a great view of Lake Ontario. You could also have a nice picnic and then hit the playground!
This neighbourhood is full of other gems that many families enjoy. There are plenty of lovely shops where you can get sweet treats like Ed's Real Scoop or Tori's Bake Shop.
If you don't feel like shopping, just admire the many historical buildings in this special neighbourhood.
Next time you come sing with Rainbow Songs Beaches location consider making a day of exploring the Beaches. You won't regret it!
Best Toddlers and Baby activities at Coxwell and Danforth
When you and your infant or toddler come sing with Rainbow songs at our Danforth and Coxwell location located at Kimbourne Park United Church (200 Wolverleigh Blvd. Toronto ON M4C 1S2), you can enjoy some outdoor fun nearby at Monarch Park.
After your class, take a quick walk or drive on over to Monarch Park at Fellstead Avenue! You and your toddler or infant can enjoy an array of outdoor activities all year round.
In the fall and spring the whole family can enjoy Monarch Park's colourful playground. In the summer, your toddler will feel right at home in their wading pool, and if you have older children they can try the swimming pool which features waterslides! Finally, in the Winter Monarch Park check out the skating rink which offers public skating hours most afternoons.
Visit their website for more information. https://www.toronto.ca/data/parks/prd/facilities/complex/145/index.html
Singing with Rainbow Songs is fun for the whole family and for infants and toddler's developing minds. Staying active is also important for everyone, so consider playing in the park at  Monarch Park after you and your infant or toddler sing with us!
Best Toddlers and Baby activities in Danforth Village
Hope you have fun at your baby or toddler music class on the Danforth Village! Classes at located at Eastminster Church (310 Danforth Ave Toronto Ontario M4K 1N6). Danforth Village is also home to many popular east end retail shops and fun activities. After you and your toddler or infant sing with us, you can explore these great local shops:
Grab a treat at Cobs Bread. They have lots of tasty scones and snacks! Their whole grain bread are also really yummy too.
Pick up a toy at Treasure Island Toy Shop. This toy store has tons of great toys for babies and toddlers. They often highlight local toy makers, ship for free (over a certain amount) and put together fantastic loot bags for your child's birthday parties!
Buy a book for your little one at Book City. A well known Toronto book store, Book City has a wonderful children's section of all your favourite preschool early readers, fun classics like Robert Munsch and many others.
Right across the street from where your Rainbow Songs music class takes place is Carrot Common. Pick up all your health food needs for both you and your child at Carrot Common.
Best Toddlers and Baby activities in Leslieville
Leslieville has become a super fun neighbourhood with lots of places to check out after you enjoy your music class with your baby or toddler. Looking for something to do after having fun singing with your baby or toddler in our music classes in Leslieville (The Centre for Spiritual Living, 1311 Queen St. E Toronto ON M4L 1C2)? Check out the below great activities for kids.
Wander over to the Leslieville dollhouse, a house with a fantastic assortment of dolls, toys, stuffed animals and an assortment of toy collectibles placed on the front garden.
Looking for clothes for your little one but don't want to pay full price? Want to get rid of clothes that your child has outgrown? Check out Bumbleberry Kids. They have a fantastic selection of second hand clothes for your growing baby and toddler.
Allen's Gardens is one of the great parks in Toronto. Check out the indoor botanical garden with six greenhouses, a fantastic playground with fun jungle gym area and wonderful walking trails.
The Sidekick coffee shop and bookstore is a great place to grab a hot drink and pick up some interesting reading too!
Rainbow Songs music classes in Toronto's East End neighbourhoods – The Beaches, Leslieville, Danforth and Coxwell, and Danforth Village
We look forward to singing with you this Winter! The Rainbow Songs Winter Session schedule is open for enrollment. Have a great time making music with your infant or toddler. After class enjoy checking out the great activities that you can enjoy with your child in Beaches, Leslieville, Danforth and Coxwell and Danforth Village. Toronto sure is one of the best cities for fun kid activities!