Rainbow Songs® for Toddlers
1-2 year olds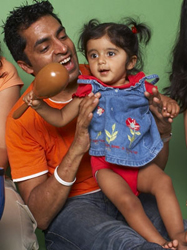 As your child enters his/her second year, their ability to participate in music-making grows rapidly. In these classes there is greater emphasis on the children's participation in the actions of the songs. The actions, in songs that identify body parts or have simple movements, can now be done by the children in these classes. Learning to clap their hands and stomp their feet becomes the first way your child will count beats in music, thereby gaining an appreciation of the relation between words, melody, and rhythm.
Also in these classes children are encouraged to play percussion instruments. During jam sessions, children are allowed to explore and experiment in making music with their caregivers and the other participants in the classes.