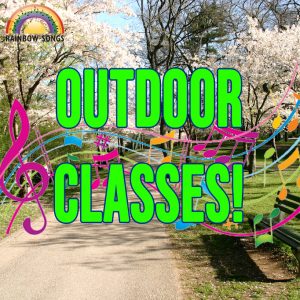 We're thrilled to be offering outdoor classes for Summer 2021! Taking place at a variety of parks and greenspaces around Toronto, these safe, physically-distanced, no-contact classes are a great way to give your child a fantastic early learning experience, meet other families near you, and bond with your kids.
Our classes will all be outdoors for Summer 2021, save for any rain days, when we will pivot to Zoom. The admin team will make this call early in the morning, and email all class participants to let them know. If you prefer, you can instead use a makeup to attend another in-person class later.
Enjoying Outdoor Classes
To get the most of your outdoor class, please:
Bring something to sit on! A yoga mat or towel works well
Dress for the weather! Hats and sunscreen (as you see fit)
Bring water with you, if you would like to have something to drink. Toronto park water fountains are in the process of being turned on, but this may take a while
Bring instruments if you have some handy and would like to use them during the instrument jam portion of class! (Don't have any instruments at home? No problem! Cheerios or pebbles in Tupperware makes a great shaker.)
Note that washroom access may be limited, depending on the site. Please take care of needs before you come to class.
Safety Protocols
Although it feels like we're nearly out of the woods, the pandemic isn't over, and so we're following some guidelines to keep everyone safe:
Attendance will be taken every class, of children and adults, so we know who has been present
We will be physically-distanced. Families will sit 2m apart from others (bubble groups are welcome to sit together)
No instruments or supplies will be shared. You are welcome to bring rhythm and percussion instruments from home for the instrument jam portion of class. Alternatively, you can get up and dance!
You may wear a mask or face covering if you want. Since we're outdoors, this is not required, but please do what makes you the most comfortable.
Sickness Policy
We ask that you stay home if you or your child is not feeling well. Rainbow Songs offers a generous makeup policy (3 makeups per child enrolled per term) so that you can make the most of your enrollment.
If you, your child, or anyone in your household receives a positive COVID test, please let us know as soon as possible. We will inform your classmates of possible exposure and pivot your class to Zoom for two weeks.
Have any further questions? Please reach out to our admin team at 416-535-5247 or info@rainbowsongs.com . We look forward to singing with you this Summer!