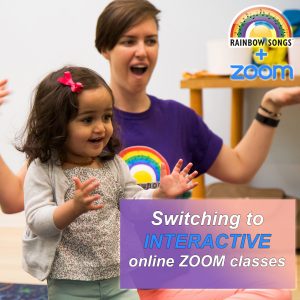 Since the timeline for quarantine is longer than expected, we are moving to a new model for singing together – one that offers a better experience for your family, and is more sustainable for our staff.
Starting June 1, we'll be offering online regular Rainbow Songs weekly classes via Zoom. Here's what that will look like!
Your Enrollment Includes
One 30-minute interactive virtual class via Zoom, with your beloved teacher, once a week for 10 weeks
Additional daily livestreamed singalongs, for all enrolled students to enjoy
Online access to our private library of class videos, featuring your teacher AND our other staff
Private Facebook groups, where you can connect with other parents. We'll use these to post resources for you, and offer a chance for you to connect with your teacher about song requests
A FREE CD with early enrollment (mailed to you!). Choose from any of our 7 award-winning children's albums
Cost
$150 for the first child, free for the other siblings in the same household (and attending the same class). You only need to register one child per household. Enroll now!
OR – choose to just have access to the private library for 10 weeks, via Facebook, for $50. Purchase a subscription online now!
Our normal policies about cancellation apply.
Due to the nature of online classes, no makeups are available. However, you'll be able to access the video library at any time, via Facebook.
Ready to sign up? Enroll online now!